05.03.06 Look out for later related articles
Briton Feroz Ali Abbasi gave a note to his captors at Guantanamo stating his claim to be a "prisoner of war".
The note, released under FOIA and shown below, was a clear statement that the detainee said he was making under the Geneva convention.

BE SEEN!
Advertise
in this space

Contact us for prices
to place your advertisement
on this website.
British inmate claimed 'prisoner of war' status
The full text of the note, dated August, 31 2004, reads: "I, Feroz Ali Abbasi, in accordance with Geneva convention III Article 5 and Article 45 of the 1977 additional protocol I to the Geneva convention ('API'), hereby officially claim the status of prisoner of war, through my US civilian attorney, Gitanjali Gutierrez, who is at present here at Guatanamo Bay, Cuba, and has been given express instructions, from myself, to pass this notice on to all persons it may concern."
In addition to the note, Abbasi submitted to his captors a long hand-written document in which he said that he would be "humbled" to be regarded as a combatant.
Abbasi, originally from Croydon, was transferred to Guantanamo after being captured in Afghanistan in 2001. He admitted that he decided to go there to fight for the Taleban or in Kashmir.
The US military accuses him of being an "enemy combatant", saying that he was recruited to fight for al-Qaeda in Afghanistan after attending the Finsbury Park mosque in north London where Abu Hamza preached before being jailed for inciting murder and religious hatred. However, the UK government ultimately negotiated Abbasi's release in January 2005.
He tells his captors in his statement: "I actually left Britain to either join the Taleban or fight for the sake of Allah in Kashmir."
He continues: "Do not be fooled into thinking I am in any way perturbed by you classifying me as a (nonsensical) 'enemy combatant'. In fact quite to the contrary I am humbled that Allah would honour me so."
He admits to being at a training camp in Afghan-istan when the al-Qaeda leader, Osama bin Laden, gave a talk.
"Yes, I was present at the very speech when with his own mouth and tongue he told 'basic training' that he had received a fax from the Americans!"
This fax was, he says, either a threat or an offer "or both". He says that he did not hear the whole speech because he went to his tent to "snack on some cold honey."
In his hand-written statement, he expresses deep anger against the US and Israel. He accuses America of committing the "greatest terrorist acts known to history", the "atom bombings of the CIVILIAN POPULATION of Nagasaki and Hiroshima".
He continues: "Pure hate wells up in my veins to think the US could get away with such a thing. My eyes light up aflame and I yearn for justice, sweet justice against the tyrant that hurts INNOCENT CIVILIANS."
He adds: "The US did not have any legitimate cause whatsoever [in Afghanistan] except that of a, quoting Bush, 'Crusade' to attack the Islamic Emirate, tear down Allah's law and replace it with oppressive democracy."
Despite this tirade, he denies being a member of al-Qaeda.
Turning to his treatment at Guantanamo Bay, he says that military police officers had misled him into praying north towards America rather than Mecca, as muslims are supposed to do.
He also complains that two couples, male and female military police officers, had sex near him twice. Once, he said, was when they thought that he was asleep, but the second time was "while he was praying."
Others tried to feed him "a hot plate of pork", food that is banned in the islamic faith. He also says that he was drugged with a mind-altering chemical.
He called for several guards to be called to his "combatant status review tribunal" to answer his claims.
He declares that al-Qaeda has not been found guilty of the September 11 attacks and that the US has no evidence, saying: "Not only does [it] not have a leg to stand on, it does not even have buttocks to sit on, nor a back or sides to lie on."
But when he read out this part of his statement to his tribunal, a US air force colonel who presided over the hearing, intervened: "This is your last warning... this is not a matter of al-Qaeda... it is a matter of what you did in Afghanistan."
Early on in the hearing, Abbasi asks: "May I have my legal representative present please?"
The tribunal president replies: "No, you may not. This is not a legal proceeding. It is a military tribunal."
Abbasi later argues: "On the basis that the tribunal can actually hold me here in incarceration or release me, I would consider this a criminal proceeding."
He wanted to call his lawyer as a witness and for his mother to come from the UK to give evidence. But both were denied.
A FOIA Centre consultant will appear as a guest on "The Agenda" on the Islam Channel, broadcast live on Monday, March 6, 10:00am to 11:30am (repeated 11:00pm) in Europe (Sky channel 813 in UK) and north Africa, to discuss the documents.
Comment on this article
'We don't care about international law'
Naming the names of 'Camp Delta' prisoners
US forced to identify Guantanamo detainees
Headlines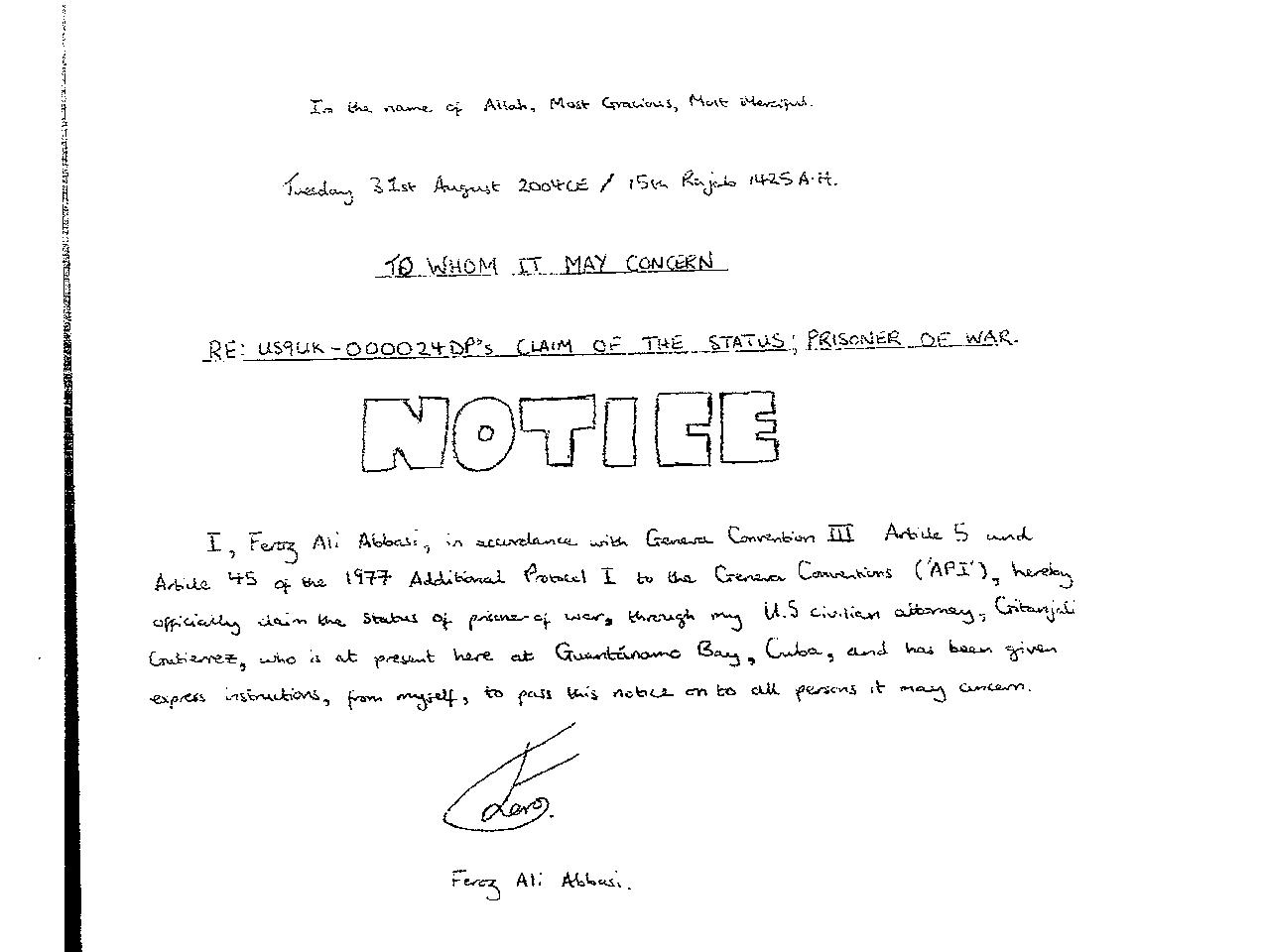 'TO WHOM IT MAY CONCERN: I, Feroz Ali Abbasi, in accordance with Geneva convention... hereby officially claim the status of prisoner of war.'